High Strength Weave Geotextiles With Good Stability
Product Detail
Product Tags
Weave geotextile is made of polypropylene, polypropylene and polyethylene flat yarns as raw materials, and consists of at least two sets of parallel yarns (or flat yarns). One group is called warp yarn along the longitudinal direction of the loom (the direction in which the fabric travels) The horizontal arrangement is called the weft. The warp yarn and the weft yarn are woven into a cloth shape with different weaving equipment and processes, which can be woven into different thicknesses and densities according to different application ranges, with good stability.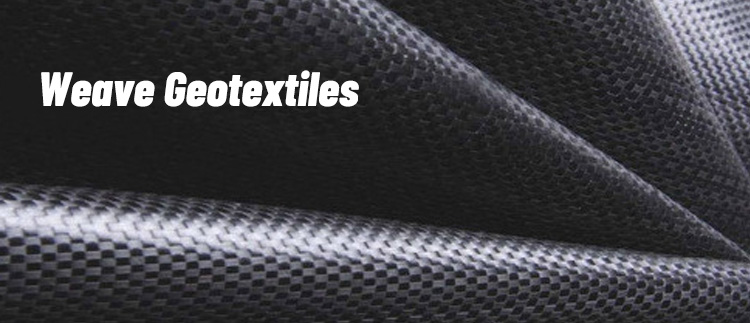 Specification:
Weave Geotextiles Performance Parameter
Item and item number
PLB030401
PLB030402
PLB030403
PLB030404
PLB030405
PLB030406
PLB030407
Mass per unit area g/m2
120 ± 8
150 ± 8
200 ± 10
250 ± 10
280 ± 10
330 ± 15
400 ± 20
Thickness (2kPa) mm
0.4
0.48
0.6
0.72
0.85
1
1.25
Longitudinal short-cracking strength kN/m
≥ 20
≥ 30
≥ 40
≥ 50
≥ 60
≥ 80
≥ 90
Weft short crack strength kN/m
≥ 14
≥ 21
≥ 28
≥ 35
≥ 42
≥ 58
≥ 63
Elongation at warp direction %
15-25
18-28
Weft short crack elongation %
15-25
18-28
Trapezoidal tear strength kN
0.25
0.35
0.45
0.7
0.95
1.1
1.25
CBR bursting strength kN
1.8
2.8
3.6
4.5
5.5
7
8.6
Relative strength %
0.76
0.91
0.97
1.1
1.02
Equivalent aperture (O 95 )mm
0.08-0.4
Vertical permeability coefficient cm/s
K × (10 -2 -10 -3 ) K=1.0-9.9
Single width series m
(3.6,4,4.4,5.2,5.5,5.8,6.0,6.1)
Single roll length m
According to user requirements, the weight of a single roll is less than or equal to 1500kg .
Product Features
1. High strength, low elongation, aging resistance, not easy to tear
2. Prevent grass, insects, prevent erosion, prevent soil erosion
3. Effectively prevent sand particles and allow water and air to pass through
4. Acid and alkali resistance, strong cold resistance, with strong weather resistance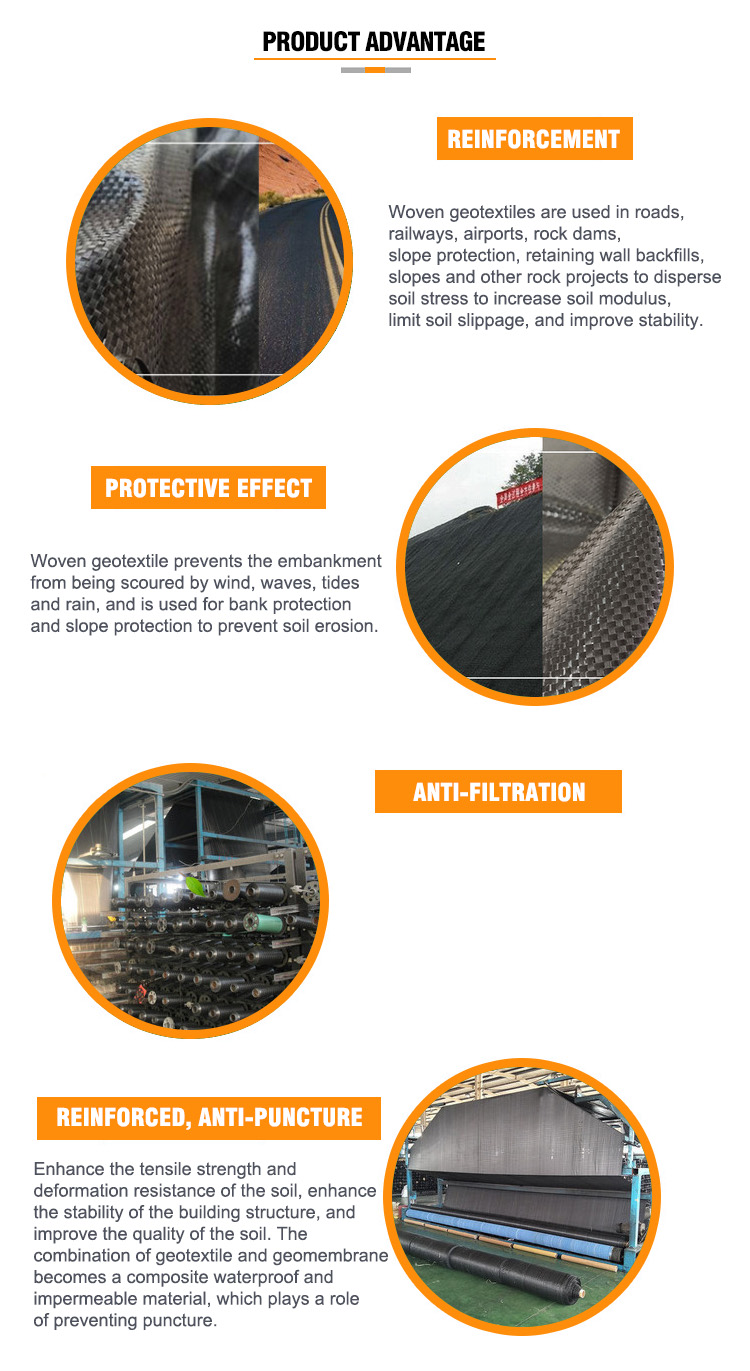 Application
1. Used in rock projects such as highways, railways, airports, stone dams, breakwaters, retaining walls, backfills, borders, etc., to disperse soil stress to increase soil modulus, limit soil slippage, and improve stability.
2. Prevent the embankment from being scoured by wind, waves, tides and rain, and be used for bank protection, slope protection, bottom protection, and soil erosion prevention.
3. It is used as the filter layer of embankments, dams, rivers and coastal rocks, soil slopes, and retaining walls to prevent sand and soil particles from passing through, while allowing water or air to pass freely.
Note
1. Geotextiles can only be cut with a geotextile knife (hook knife). If cutting is done on the site, special protective measures should be taken for other materials to prevent unnecessary damage caused by cutting geotextiles;
2. At the same time as the geotextile is laid, all necessary measures must be taken to prevent damage to the material below;
3. When laying geotextiles, pay attention do not allow other materials such as stones, large amounts of dust or moisture that may damage the geotextile, block drains or filters, or make subsequent connections difficult;
4. After installation, visually inspect the surface of all geotextile to identify all damaged land, mark and repair, and make sure there is no other material on the surface that can cause damage, such as broken needles;
5. Connections of geotextiles must follow the following rules: Under normal circumstances, there shall be no horizontal connections on the slope (the connections shall not intersect with the slope contour), except where repairs are made.
6. If sutures are used, the sutures should be made of the same or more than geotextile material, and the sutures should be made of chemical uv resistant material. There should be a clear color difference between the sutures and geotextiles to facilitate inspection.
7. Special care should be taken during installation to ensure that no gravel from soil or gravel cover gets into the middle of the geotextile.
Video

---
---
Write your message here and send it to us