BH-KZX10 series of intelligent thyristor steady flow control devices
Product Detail
Product Tags
Product performance: The utilization of JM810 NC device has greatly met the requirments of the precise and reliable thyristor units' steady flow control. The utilization of core unit of the minimum steady flow and design technology of all digital, dual-channel redundant and hot standby steady flow system has ensured the long-term operation. Self-diagnosis and intelligent control and protection process of real-time system, realization of synchronizing signal, abnormal feedbacks of AC-DC, overcurrent of the unit, malfunction of the trigger, dual-channel monitoring, automatic detection and intelligent protection processing have substantially improved the reliability of overall system. Fully functional PLC control system has improved the equipment's operating safety and the effectiveness of protection and control. The man-machine interface of touch-screen, which is perfect, abundant, convenient and flexible, has greatly increased the means of operating, managing and analyzing, it has friendly interface and simple operation. Open parametric digital monitoring systems can be set in field-line and logically programmed, simple and intuitive debugging operations, safe and reliable. Multi-redundant design can online replace any module devices in the maintenance system in the case of power supply of rectifier. Field replacement of NC device, automatic recognition and judgment of the system to complete parameters' online copy and no need to do any debugging.The utilization of communication modules of siemens and AB and other high-end PLC, industrial field bus, host computer monitoring system or DCS technology can form reliable communication network, facilitating the realization of rectifying integrated automation monitoring system. Connecting the internet through gateway can realize the modifications of configuration program in different places, the setting of parameter monitoring and other remote maintenance functions. The structure of the system's logic hardware is simple, easy to install and use, simple maintenance and repair. Using industry-standard product design and manufacturing, beautiful and practical appearance and excellent quality.
Special purposes: It can be used to control under the mode of isolated network, quickly and accurately adjust the load and meet the requirements of control techniques.
Characteristics: digital, modular, automatic and intelligent, high precision of steady flow, fast response, simple operation, reliable performance, strong compatibility, strong anti-magnetic ability, supporting online replacement, dual hot standby switch without disturbance, simple and generous appearance.
Application: thyristor rectifier device control (isolated network control of the thyristor rectifier device).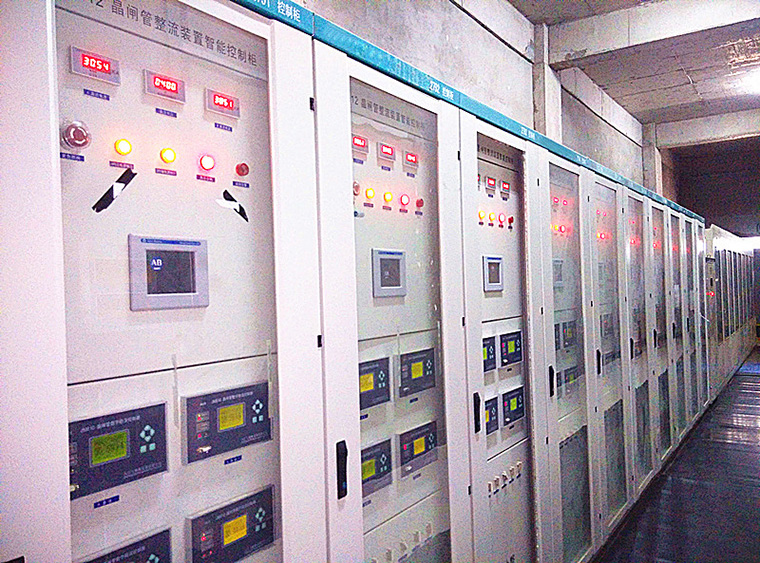 BH-KZX10 series thyristor rectifier intelligent control cabinet site layout
---
Next:
BH-ZL-200 series of large-scale rectifying and intelligent network monitoring system which is based on fieldbus
---
Write your message here and send it to us